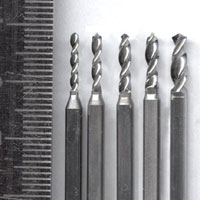 Serial Number – Standart: Ø 0,35mm – Ø 3,00mm.
Helix angle 33 o
Point angle 130 o
Tools material: Solid Carbide, submicron grain 0,5-0,8µ(microns) with ultra high strength.
Designed as Standart Drills for all double-sided multilayers (up to 4 layers) and flex boards.Thin web disign and narrow margins, large flute area, minimum of heat generation. Packing for PCB are supplied in strong, attractive boxes, in units of 25 or 100 pieces. For Diameters Ø0,35 to Ø0,65mm.supplied with special protectors.
| | | | | | |
| --- | --- | --- | --- | --- | --- |
| ID | Sizes | Diameter of drill | Diameter of shank | Flute Length | Overall length OAL |
| 1 | PCB035040 | 0,35 mm | 3.00 mm | 4.0 mm | 38,1 mm |
| 2 | PCB040045 | 0,40 mm | 3.00 mm | 4,5 mm | 38.1 mm |
| 3 | PCB045045 | 0,45 mm | 3.00 mm | 4,5 mm | 38.1 mm |
| 4 | PCB050050 | 0,50 mm | 3.00 mm | 5,0 mm | 38.1 mm |
| 5 | PCB055050 | 0,55 mm | 3.00 mm | 5,0 mm | 38.1 mm |
| 6 | PCB060060 | 0,60 mm | 3.00 mm | 6,0 mm | 38.1 mm |
| 7 | PCB065060 | 0,65 mm | 3.00 mm | 6,0 mm | 38.1 mm |
| 8 | PCB070100 | 0,70 mm | 3.00 mm | 10,0 mm | 38.1 mm |
| 9 | PCB075100 | 0,75 mm | 3.00 mm | 10,0 mm | 38.1 mm |
| 10 | PCB080100 | 0,80 mm | 3.00 mm | 10,0 mm | 38.1 mm |
| 11 | PCB085100 | 0,85 mm | 3.00 mm | 10,0 mm | 38.1 mm |
| 12 | PCB090100 | 0,90 mm | 3.00 mm | 10,0 mm | 38.1 mm |
| 13 | PCB095100 | 0,95 mm | 3.00 mm | 10,0 mm | 38.1 mm |
| 14 | PCB100100 | 1,00 mm | 3,00 mm | 10,0 mm | 38,1 mm |
| 15 | PCB105100 | 1,05 mm | 3,00 mm | 10,0 mm | 38,1 mm |
| 16 | PCB110100 | 1,10 mm | 3,00 mm | 10,0 mm | 38,1 mm |
| 17 | PCB115100 | 1,15 mm | 3,00 mm | 10,0 mm | 38,1 mm |
| 18 | PCB120100 | 1,20 mm | 3,00 mm | 10,0 mm | 38,1 mm |
| 19 | PCB125100 | 1,25 mm | 3,00 mm | 10,0 mm | 38,1 mm |
| 20 | PCB130100 | 1,30 mm | 3,00 mm | 10,0 mm | 38,1 mm |
| 21 | PCB135100 | 1,35 mm | 3,00 mm | 10,0 mm | 38,1 mm |
| 22 | PCB140100 | 1,40 mm | 3,00 mm | 10,0 mm | 38,1 mm |
| 23 | PCB0145100 | 1,45 mm | 3,00 mm | 10,0 mm | 38,1 mm |
| 24 | PCB150100 | 1,50 mm | 3,00 mm | 10,0 mm | 38,1 mm |
| 25 | PCB155100 | 1,55 mm | 3,00 mm | 10,0 mm | 38,1 mm |
| 26 | PCB160100 | 1,60 mm | 3,00 mm | 10,0 mm | 38,1 mm |
| 27 | PCB165100 | 1,65 mm | 3,00 mm | 10,0 mm | 38,1 mm |
| 28 | PCB170100 | 1,70 mm | 3,00 mm | 10,0 mm | 38,1 mm |
| 29 | PCB175100 | 1,75 mm | 3,00 mm | 10,0 mm | 38,1 mm |
| 30 | PCB180100 | 1,80 mm | 3,00 mm | 10,0 mm | 38,1 mm |
| 31 | PCB185100 | 1,85 mm | 3,00 mm | 10,0 mm | 38,1 mm |
| 32 | PCB190100 | 1,90 mm | 3,00 mm | 10,0 mm | 38,1 mm |
| 33 | PCB195100 | 1,95 mm | 3,00 mm | 10,0 mm | 38,1 mm |
| 34 | PCB200100 | 2,00 mm | 3,00 mm | 10,0 mm | 38,1 mm |
| 35 | PCB205100 | 2,05 mm | 3,00 mm | 10,0 mm | 38,1 mm |
| 36 | PCB210100 | 2,10 mm | 3,00 mm | 10,0 mm | 38,1 mm |
| 37 | PCB215100 | 2,15 mm | 3,00 mm | 10,0 mm | 38,1 mm |
| 38 | PCB220100 | 2,20 mm | 3,00 mm | 10,0 mm | 38,1 mm |
| 39 | PCB225100 | 2,25 mm | 3,00 mm | 10,0 mm | 38,1 mm |
| 40 | PCB230100 | 2,30 mm | 3,00 mm | 10,0 mm | 38,1 mm |
| 41 | PCB235100 | 2,35 mm | 3,00 mm | 10,0 mm | 38,1 mm |
| 42 | PCB240100 | 2,40 mm | 3,00 mm | 10,0 mm | 38,1 mm |
| 43 | PCB245100 | 2,45 mm | 3,00 mm | 10,0 mm | 38,1 mm |
| 44 | PCB250100 | 2,50 mm | 3,00 mm | 10,0 mm | 38,1 mm |
| 45 | PCB255100 | 2,55 mm | 3,00 mm | 10,0 mm | 38,1 mm |
| 46 | PCB260100 | 2,60 mm | 3,00 mm | 10,0 mm | 38,1 mm |
| 47 | PCB265100 | 2,65 mm | 3,00 mm | 10,0 mm | 38,1 mm |
| 48 | PCB270100 | 2,70 mm | 3,00 mm | 10,0 mm | 38,1 mm |
| 49 | PCB275100 | 2,75 mm | 3,00 mm | 10,0 mm | 38,1 mm |
| 50 | PCB280100 | 2,80 mm | 3,00 mm | 10,0 mm | 38,1 mm |
| 51 | PCB285100 | 2,85 mm | 3,00 mm | 10,0 mm | 38,1 mm |
| 52 | PCB290100 | 2,90 mm | 3,00 mm | 10,0 mm | 38,1 mm |
| 53 | PCB295100 | 2,95 mm | 3,00 mm | 10,0 mm | 38,1 mm |
| 54 | PCB300100 | 3,00 mm | 3.00 mm | 10.0 mm | 38.1 mm |
No.: 20007